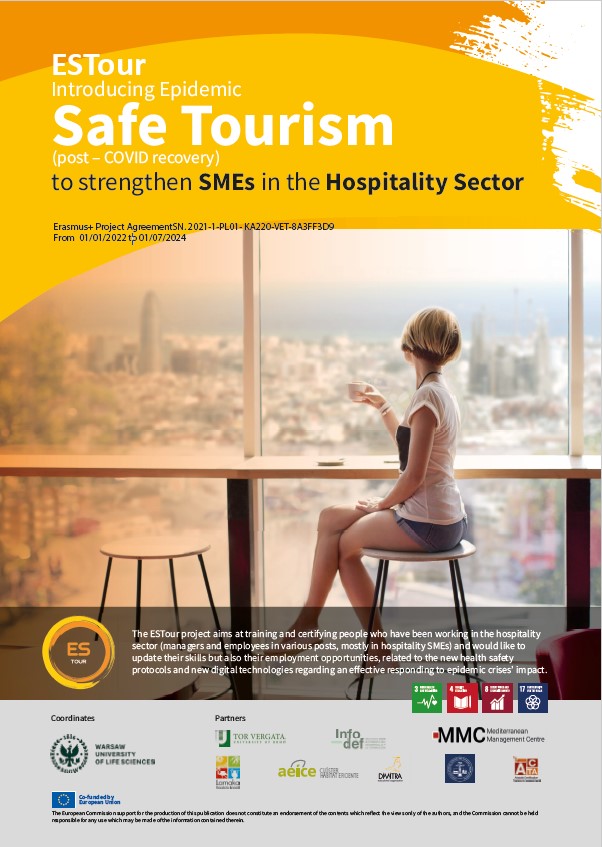 The ESTour project aims at training and certifying people who have been working in the hospitality sector and would like to update their skills related to the new health and safety protocols and new digital technologies in regards to an effective response to epidemic crises' impact. The main goal of the ESTour Expert is to be able to work at an operational level, namely conduct an operational plan by creating and implementing staff protocols and guidelines, retraining and monitoring staff regarding infection control, physical distancing and hygiene measures, and to know how to use the new digital technologies for implementing clients' social distancing during epidemic crises.
Partners:
Cyprus: Larnaka Tourism Board / M.M.C Management Center Limited
Greece: Dimitra Education & Consulting / Elliniki Etaireia Iatrikis Tis Ergasias Kai Perivallontos / Katartiseis Aksiologiseis Pistopoihseis Anonimi Etairia
Italy: Università degli Studi di Roma Tor Vergata
Spain: Instituto Para EL Fomento Deldesarrollo Y Laformacion SL / Agrupacion Empresarial Innovadora para la Construccion Eficiente (AEICE)
Poland: Warsaw University of Life Sciences
Project News
The project's first newsletter outlining the steps and progress made so far through the collaborative actions of the partners was published following the kick off meeting and the first face-to-face meeting held in Valladolid, Spain in June 2022.
Read the newsletter here.
The project's second newsletter was published following the second face-to-face meeting in Rome in December 2022.
Read the newsletter here.