Kalavasos-Tenta Archaeological Site (Neolithic Settlement)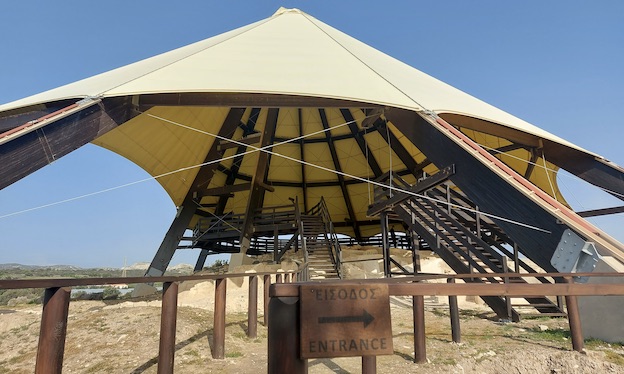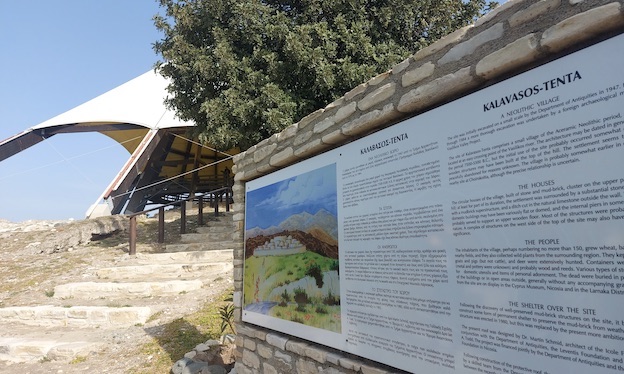 The Neolithic Age settlement of Tenta is situated a short distance from Kalavasos Village and dates to 8500-7000 BC. It is one of the most significant Neolithic settlements on the island, and is covered by a characteristic cone-shaped roof, which forms a contemporary architectural intervention in the landscape.
According to local tradition, the name of the site goes back to 327 AD when St. Helen - the mother of Constantine the Great - stayed in a tent ('tenta') in this location during her visit to the island following the discovery of the Holy Cross in Jerusalem.
The site has been virtually reconstructed in a historically accurate video that takes the viewer on a 9500 year journey back in time to see the area during the Aceramic Neolithic period (7.000-5.200 BC), when the island's first permanent residents established a village west of the Vasilikos River plain. Watch the video here.
Kalavasos Village (Click to Google Maps)

Monday - Friday: 8:30-16:00 (Sept 16-Apr 15) / Monday - Friday: 8:30-16:00 (Apr 16-Sept 15)




€2,50

Non-accessible for wheelchairs

Closed on weekends and some public holidays. Opening and closing times as well as entrance fees, are subject to alterations without notice. Visitors are advised to check before visiting.